Her er juryen til Effie Awards Denmark 2023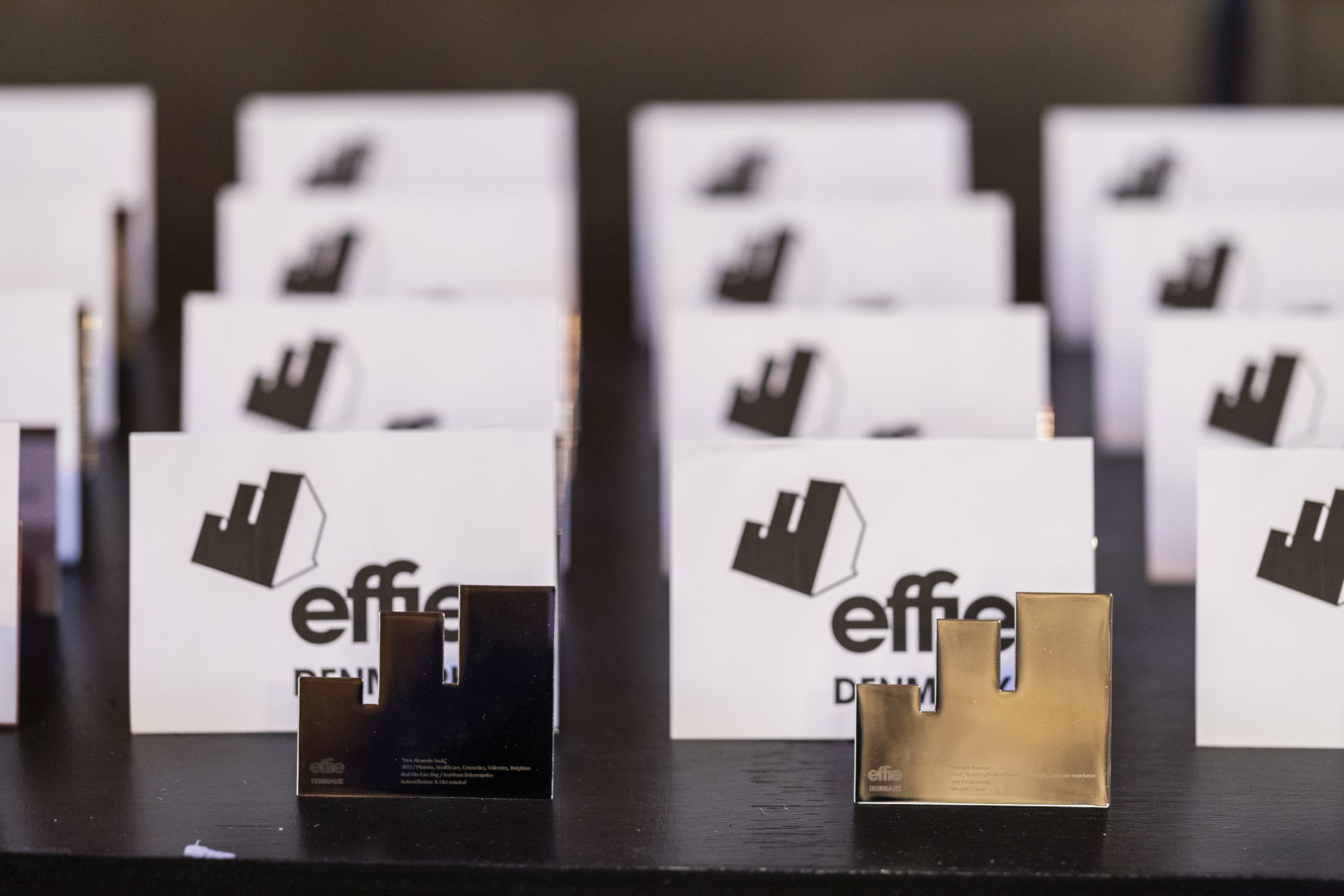 Juryen til Effie Awards Denmark 2023 er konstitueret, og branchens effektivitetspris bliver i år uddelt af en række forskelligartede profiler med stor erfaring og indsigt – både fra det kreative, det kommercielle og det strategiske felt
En bredt sammensat jury skal bedømme de indsendte arbejder til Effie Awards Denmark 2023, som afvikles for andet år i træk. De 70 jurymedlemmer er udpeget på baggrund af deres erfaring fra og indsigt i branchen – men der er også unge profiler og talenter iblandt. Fælles for dem alle er, at de har forudsætningerne for at vurdere, hvilken kommunikation, der er mest effektiv, og som rykker mest ved både holdninger, præferencer og markedsandele. 
Fra forskellige hjørner af industrien
I Effie Awards-juryen 2023 er der en bred alders- og kønsspredning – og profilerne har forskellige relevante branchebaggrunde. Juryudvælgelsen bygger bl.a. på meritter, og så er der lagt vægt på, at både det strategiske, det kreative og det kommercielle felt er repræsenteret. I år er der også en bredere kunderepræsentation i juryen med aktører fra forskellige dele af erhvervslivet. 
Direktør i Kreativitet & Kommunikation Charlie Stjerneklar glæder sig over årets Effie-jury, som bredt repræsenterer indflydelsesindustriens store kompetencefelt:  
"Effie er først og fremmest en effektivitetspris, og det skal selvfølgelig afspejles i den jury, som skal bedømme indsendelserne. Derfor jeg glad for, at vi har en jury, som rummer alt det, den danske indflydelsesindustri har at byde på: De strategiske, dataeksperterne, plannerne, indkøberne, de kreative, dem der styrer projekterne, og dem der formulerer indsendelserne. Effie Awards Denmark handler om flere ting, men én af dem er at kaste lys over den værdi, som vores industri skaber – ved at sætte spot på den beviselige effektivitet. Den opgave er jeg overbevist om, at denne jury, med alle deres indsigter og forskellige udgangspunkter, kommer til at løfte med bravour."  
Se jurymedlemmerne her
Karina Holm Henriken, CEO og Partner i We Love People (juryforperson)

Ørnulf Johnsen, CEO i &Co. / Partner i NoA. (juryforperson)

Lars Samuelsen, Chief Strategy Officer & Creative Chairman, Uncle Grey (juryforperson)

Claus Andersen, Managing Director for Hearts & Science + Drum CPH (juryforperson)

Louise Guldager, Partner, Director of PR & Crisis Management, Schultz J & Goll

Martin Michael Hansen, Co-CEO & Partner, Yellow Advertising

Søren Christensen, Partner & Strategic Director, Robert/Boisen & Like-minded

Frederik Kornum-Hall, Senior Advisor, Primetime

Nadia Christensen, Head of Social, Publicis Media

Eva Svavars, Partner, Lead Agency

Jeppe Nis Jensen, Creative Director & Partner, Advice

Julie Daugaard, Executive Strategy & Growth Director, dentsu

Felix Binggeli, Client Director, Brandhouse/Subsero

Rolf Bach, CEO, Uncle Grey

Thomas Christenson, Client Service Director / Partner, &Co.

Britt Hougaard, Head of Marketing, Innovation & Communication, Kohberg

Casper Buchhave, Head of Marketing, Aller Media

Helene Birk, CMO/Marketingchef, XL-BYG amba

Jan Højborg Henriksen, Head of Sales & Marketing, Feriepartner Danmark

Steffen Lundgren Kristensen, SVP & CMO, Head of Marketing & Online, YouSee

Alexander Faxø, Senior Social & Brand Activation Strategist, Robert/Boisen & Like-minded

Line Deleuran, Head of Campaign & Public Sector, PrimeTime

Anne Stokholm, Director & Partner, Orchestra

Kasper Kjærsgaard Jensen, Adm. Direktør & Partner, Nørgård Mikkelsen

Tomas Olesen, Chief Strategy Officer & Partner, Envision

Annette Flinck, Strategic Director, Accenture Song

Agnete Glendrup, Senior Art Director, WeLovePeople

Peter Dalgas, Creative Director, Uncle Grey

Nynne Sille Hansen, Communications Planner, &Co.

Rikke Harbo Trikker, SVP & Kommunikationsdirektør, Andel

Omer Hanif, Kampagnekonsulent, AL Bank

Anette Østbjerg, Head of Corporate Branding & Insight, Danske Spil

Kathrine Werling, Marketingchef, Netto

Agnete Sylvest Jensen, Kommunikations- og Marketingchef, Akademikernes A-kasse

Simone M. Pedersen, Senior Consultant, Strategy & Analysis, Mindshare

Michael Kowal, Strategy Director, Lead Agency

Signe Holm, Cultural Strategist, Nord DDB

Eveline van Gaal, Senior Strategist, Robert/Boisen & Like-minded

Louise Sonne Bergström, Strategic Director/Partner, TBWA Connected

Morten Vester Haldrup, Advisor, Advice

Mads Thorsted Hald, Executive Creative Director, Advance

Charlotte Porsager, Chief Commercial Officer, Uncle Grey

Fie Jakobsen, Group Director, Drum CPH

Helle Julin, Senior Strategic Planner, &Co.

Henriette Edslev, Head of digital fundraising and dialogue, Kræftens Bekæmpelse

Anna Rise, Kommunikationschef, Nestlé

Pernille Vestergaard Roslev, Direktør Medlem og Marketing, GF Forsikring

Dennis Gade Pedersen, Director Brand Management, Norlys

Lena Friberg, Head of Branding and Design, Coloplast

Sus Mandrup Hansen, Associate Director, Accenture Song

Kamille Rannes, Head of Strategy, We Love People

Kirsten Pedersen, Digital Performance Director, dentsu X

Casper Tage Stavnstrup, Digital Director, Orchestra

Stefani Gamst Giersch, Director, OMD

August Rein, Project & Production Manager, Twenty Agency

Kim Boisen, CEO & Co-Founding Partner, Robert/Boisen & Like-minded

Villy Gravengaard, Partner & CEO, Nexus Ambition

Simon Osbech, Digital Marketing Director, Publicis Media

Suzanne Remillard, Client Service Director, Marketsquare

Rasmus Philip, Senior Strategist, Uncle Grey

Julie Elander Pehrsson, Strategic Planner, &Co.

Morten Hershøj, Director, Branding & Marketing, Advice

Mohamed Attazgharti, Marketing & Communication Director, Capgemini

Susanna Beranova, Marketing Director, ROCKWOOL Nordic

Nichlas Gustafsen, Director, Marketingchef DK, Tryg

Michael Gade, Chief Marketing Officer, Jysk

Rasmus Otto, Chief Brand Strategist, Danske Bank

Christian Budtz, Executive Strategy Director, Accenture Song

Charlotte Martens, Chief Creative Strategist & Head of Planning, Advice

Mette Lund, Digital Content Manager, Wibroe, Duckert & Partners
Mere information
En Effie-statuette gives til der med sin kommunikation, påviseligt, effektivt har flyttet præferencer, holdninger og markedsandele. Effie Awards blev afholdt for første gang på dansk jord i 2022. I november 2023 skal den effektive kommunikation igen hædres ved et stort awardshow på Børsen i København.

 

Læs mere om Effie Awards Denmark her.